RPower - Careers - Left Menu
RPower - Careers - Work Culture
Work Culture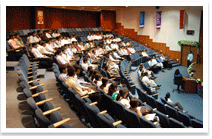 We have a vision of becoming the largest and the best integrated power company. We are building some of the biggest power plants and coal mines in the shortest time periods achieved ever. We are executing one of the biggest growth stories, one that will impact every other Indian in someway or the other. The passion to stand out and the passion to do things differently has been our trademark. This is the passion of our people, our employees who strive for excellence, who have gone that extra mile, who have fought mindsets that say – this is impossible – it's this 'can do' attitude which has made what Reliance is today.
As big as our dreams are, we do realize that it will remain incomplete without 'Our People' who are our family hence we invest first in them before we invest in our business. What we have set out to achieve in the coming few years time is unprecedented. The targets and locations are challenging, but nothing is impossible for people who work in teams facilitated by structures, systems, policies and processes which enable them to achieve the impossible.
Working at Reliance is not a job, it's a mission and it's a calling.
We believe in Equal Employment Opportunity and Affirmative Action.